Description
Golf Simulator Short Throw Projector – BenQ LU935ST
The BenQ LU935ST Laser Projector brings your golf simulator setup to life with all digital short throw HD projection. With amazing color accuracy and speed, this projector allows the best simulation with incredible detail.
This projector will captivate you while you play or practice, with its 5500 lumens bright image, vibrant, true-to-life colors and 3,000,000:1 contrast ratio.
Equipped with the best laser and lens, the LU935ST is the perfect projector for realistic simulation. This projector features the world's No. 1 DLP brand BlueCore Laser. Specifically designed for short throw fixed projection, delivering 20,000 hours of superior image quality. The BlueCore laser lasts 4 times longer than lamp based projectors, leading to fewer costs for maintenance and lamp replacement. 
Utilizing V/ H lens shift, 2D Keystone, and corner fit, setting up your projector could not be made simpler.
Revolutionary BlueCore Laser Technology 

Hassle Free Installation

Fast- <17ms response enables realistic simulation and gaming

Bright vivid colors – 5500 ANSI lumens
High contrast – 3,000,000:1 contrast ratio

Wide Screen Ultra Extended Graphics Array Display

HDBaseT Compatibility- Combines video, audio, and device control signals from multiple sources

Maintenance Free Design- IP5X Dust Guard + 20,000 hour laser life
Short Throw Projection
The BenQ LU315ST us equipped with a short throw lens that will fill up a 12 foot wide screen from less than 10 feet away. This enables you to place the projector so that you can stand closer to the screen without casting a shadow. 
Wide Screen Ultra Extended Graphics Array Display
WUXGA (1920×1200) resolution renders a sharper and cleaner image compared to  today's standard of 1080p (1920×1080).
Maximum Brightness
5,500 lumens for brighter displays. Ideal for well lit spaces such as garages with the garage door open.
High Contrast
3,000,000:1 contrast ratio. Add more depth to your image with a high-contrast projector. With brighter whites and ultra-rich blacks, images come alive and text is crisp and clear.
---
Revolutionary Laser Technology
The world's No. 1 DLP brand BenQ introduces its full line of innovative corporate laser projectors with LU935ST, unleashing the WUXGA resolution for professional presentation in corporate settings.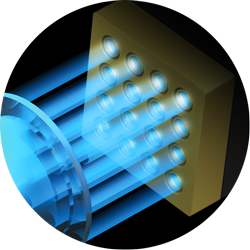 Superior Bright
Precision-Aligned High-Output Laser Source
Zero-deviation alignment of laser diodes boosts luminous flux into the light tunnel, improving light efficacy to 5,000 lumens.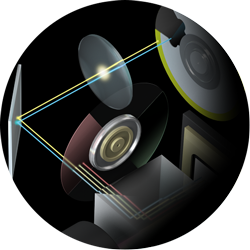 Superior Performance
Secondary Yellow-Infused Color Wheel
Dual synchronized color wheels utilize an additive yellow segment, stimulating precise RGBY spectra for optimal chromatic performance.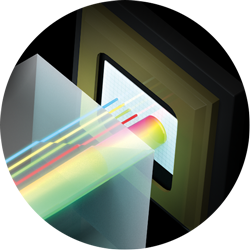 Superior Durability
Hermetically Sealed DLP Chip
Comprising over two million micromirrors that reflect pure light through the color wheel, the DLP chip is hermetically sealed to resist heat for over 20,000 hours without degradation.
Short Throw Lens
Ideal for golf/flight simulation and retail applications, the LU935ST is equipped with a short-throw lens that will fill up a 12 foot wide screen from less than 10 feet away. This enables you to place the projector so that you can stand closer to the screen without casting a shadow.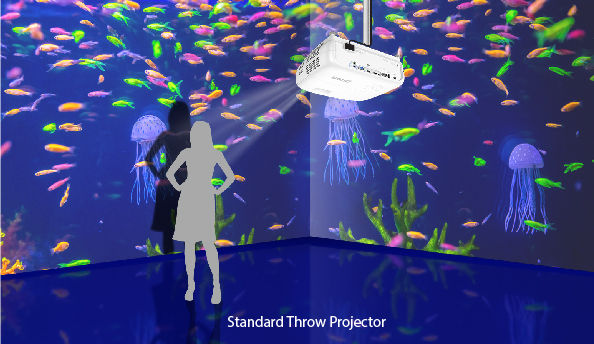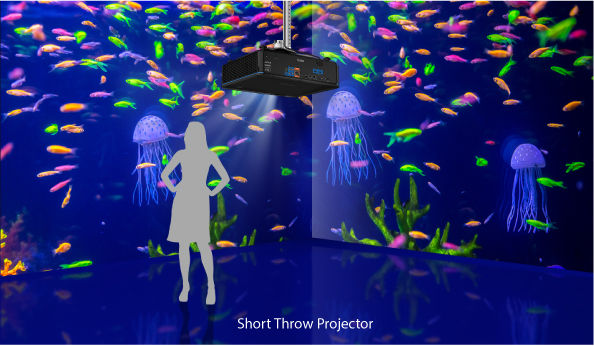 Zoom Lens and Lens Shift for mounting flexibility
The LU935ST features both a zoom function and vertical/horizontal lens shift to enable you to mount the projector in a protected area, while still enabling you to have a fully aligned image on your screen. You can move the image up and down up to 60% of the screen height – and adjust the horizontal position by 23% for an off-axis mounting location. The zoom lens can enlarge or reduce the image to enable you to move your mounting position as much as a foot on a fourteen foot wide screen.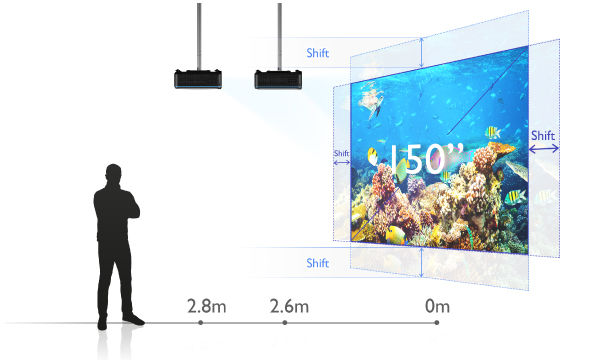 Digital Keystone and Corner Fit
Digital Keystone enables you to easily correct for vertical projector tilt, or if the projector is not square to the screen. With a few simple taps on the remote, you can adjust the image so that it properly fills your screen. BenQ's corner fit technology enables you to identify and adjust the images to stretch or pull back the image to the four corners of your screen.
Digital Shrink Adjustment
Digital Shrink enables you to mount the projector farther back from the screen and digitally adjust the image in 0.5% increments to correctly fit the screen. This is especially helpful in a golf simulator so the projector can be placed safely behind the hitting area.
360 Degree Installation for Portrait or Custom screens
The BenQ LU953ST can be mounted in any position, including sideways for a portrait image, or vertically for floor simulators without compromising performance or reliability. This is ideal for flight simulators or other specialty environments with unconventional screen locations.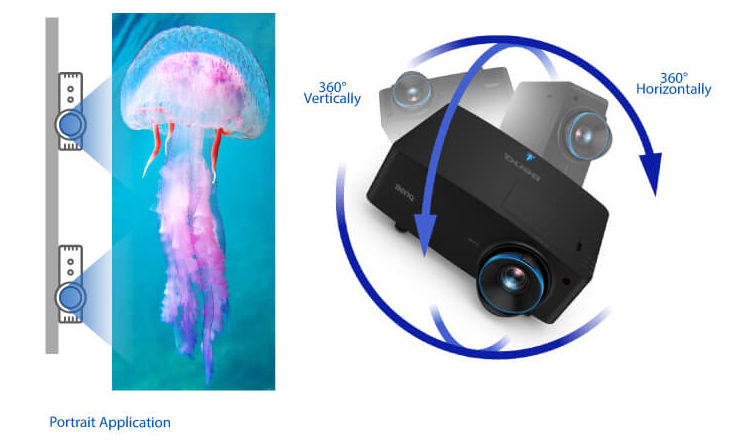 White Balance Adjustment
BenQ exclusive white balance adjustments can reduce white balance variables between images projected from different projectors to such a low level that the most people cannot see any difference. This allows for seamless and accurate picture quality without disruptive discrepancies.
Ensure Consistent Brightness Blending with Custom Light Mode
Custom Light Mode modulates light power output from 40% to 100% under a scale of 80 steps, optimizing the projected image in a variety of ambient lighting situations. It is especially useful for blending consistent brightness across multiple projections.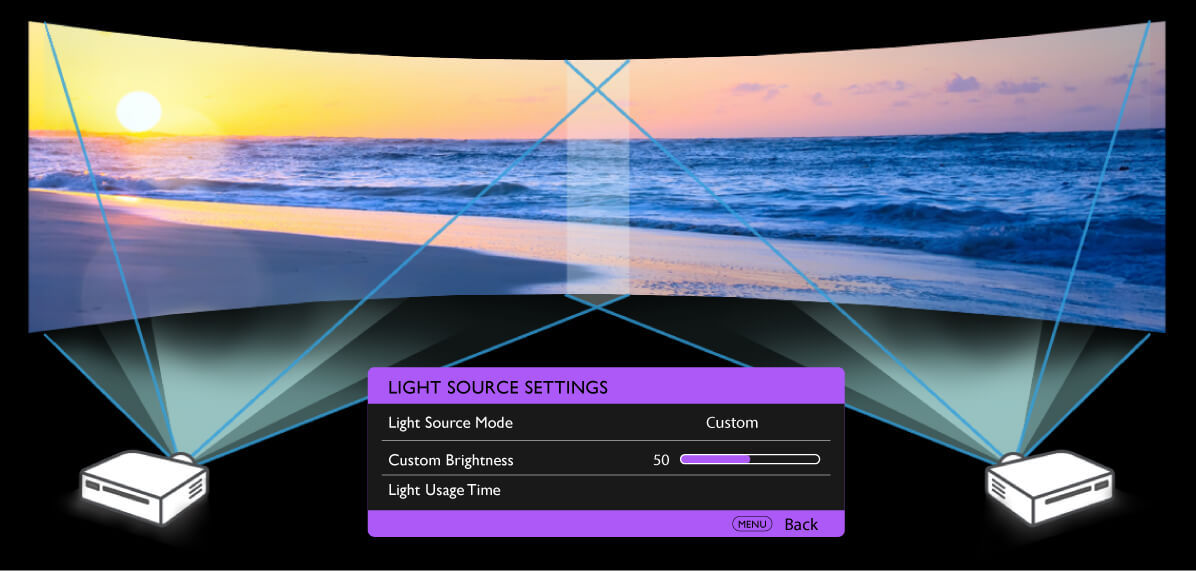 DLP Technology for Long Lasting Vibrant Color
BenQ laser projectors run on Academy Award-winning DLP technology to deliver long-lasting and reliable color for the life of the projector. The DLP chip is rated for 200,000 hours and will display stunning whites and accurate colors without the risk of yellowing over time.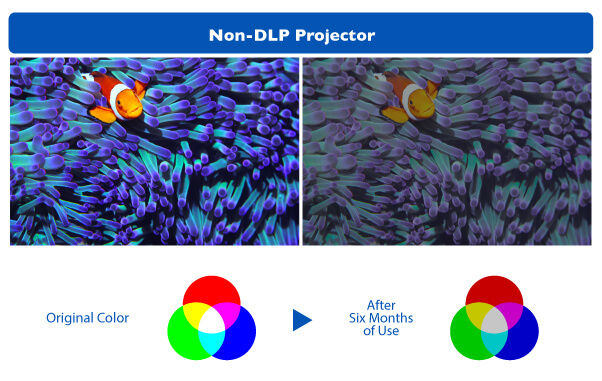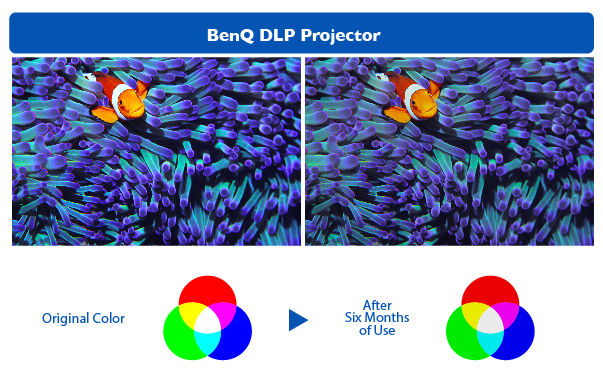 IP5X DustGuard™ Pro for Superior Dustproofing Sealed Engine
BenQ LU935ST laser projector is designed with sealed laser modules and enclosed light engines to protect the DMD chip, color wheel sensor, laser bank, and other optical components. It effectively eliminates color wheel sensor failure, visible spots on the image and color decay to significantly reduce service costs and downtime. The design has passed the dust chamber test standard JIS Class IP5X for superb dust protection.
Anti-Dust Accumulation Sensor to Resist Dust Buildup
Incorporating a color wheel sensor with an ingenious anti-dust buildup features, BenQ LU935ST prolongs optimal performance by repelling dust that can accumulate on traditional sensor to block the IR signal and cause flickering, abnormal colors, or even shutdown.
HDMI 2.0 for Supreme Image Quality
LU935ST come with HDMI 2.0 ports that users can now effortlessly project content with much less friction and enjoy greater brightness and contrast range than SDR.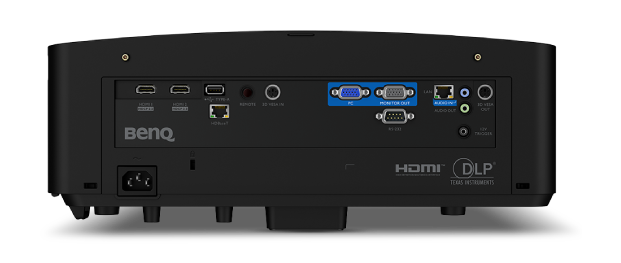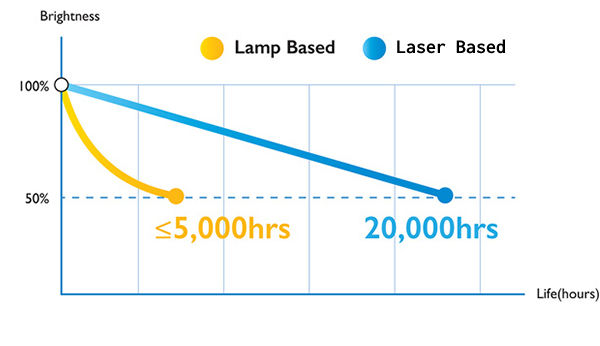 Long-Lasting 20,000 Hours Performance
BenQ laser projectors deliver 20,000 hours of superior image quality and performance. The laser light source resists color decay over time, making BenQ laser projectors ideal for multiple blending projections without concern for adjacent projectors generating different levels of brightness after a period of operation.
HDBaseT Compatibility
Groundbreaking HDBaseT connectivity combines video, audio and device control signals from multiple sources including PCs, laptops, document cameras, Blu-ray and DVDs, onto a single CAT5 cable, capable of seamless transmissions up to 100 meters.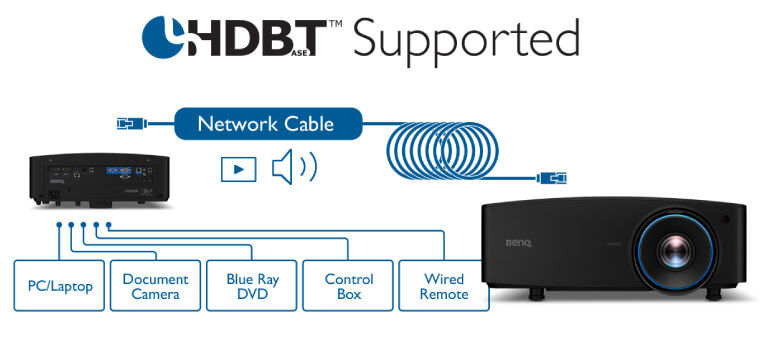 Wired Remote Control
Wired Remote Control offers projector installers and IT managers extra set-up convenience and ease of operation. The added wired control functionality makes the device a dependable choice for projector installation adjustment.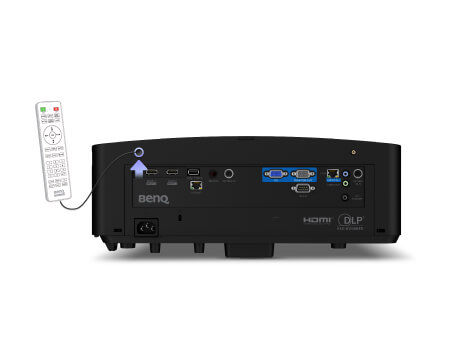 Remote Control Projector ID Setting for Independent Control
Installers and IT managers can assign a specific remote control ID to each projector, avoiding signal interference and unintentional changes when installing multiple projectors in a venue.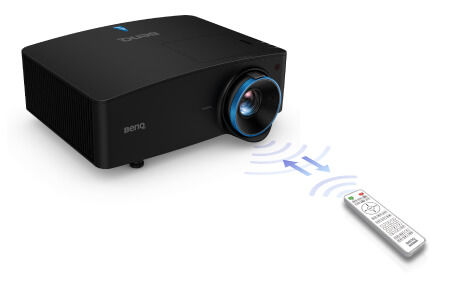 3D Sync In /3D Sync out
Connect up to 3 projectors and project 3D content together by a single PC.
RS-232 In and Out
Control at same time by RS-232 in and out connected together to make multi-screen projections.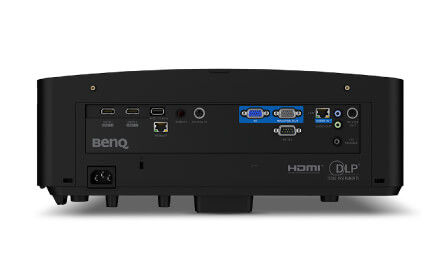 Lag-Busting Response with Fast Mode
Based on expertise gained from experience with near-zero latency displays used in gaming, LU935ST employs a Fast Mode to provide latency as low as 16.67ms so that audience benefit from responsive and realistic interactive scene when having fun.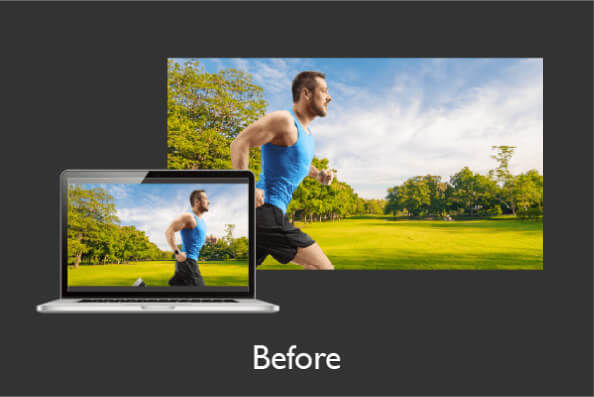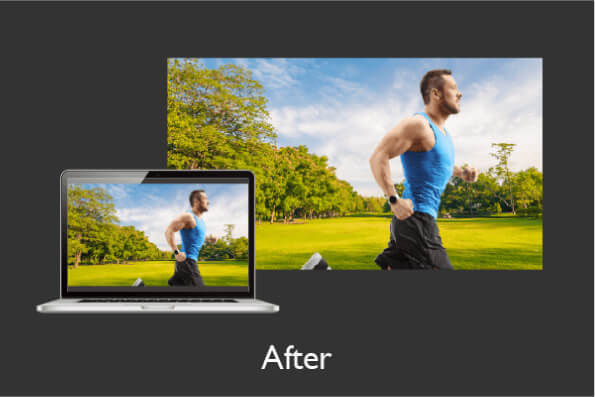 WUXGA Resolution for Enhanced Detail and Expanded Content
With an impressive WUXGA (1920 x 1200) native resolution that far exceeds Full HD 1080p, BenQ LU935ST laser projector offers greater details and stunning image clarity when projecting high resolution images.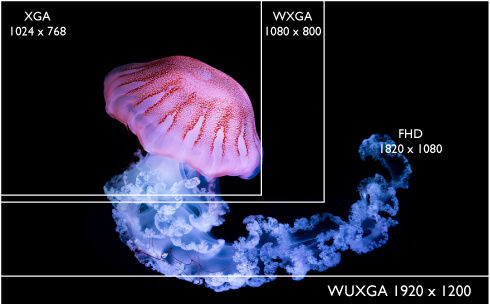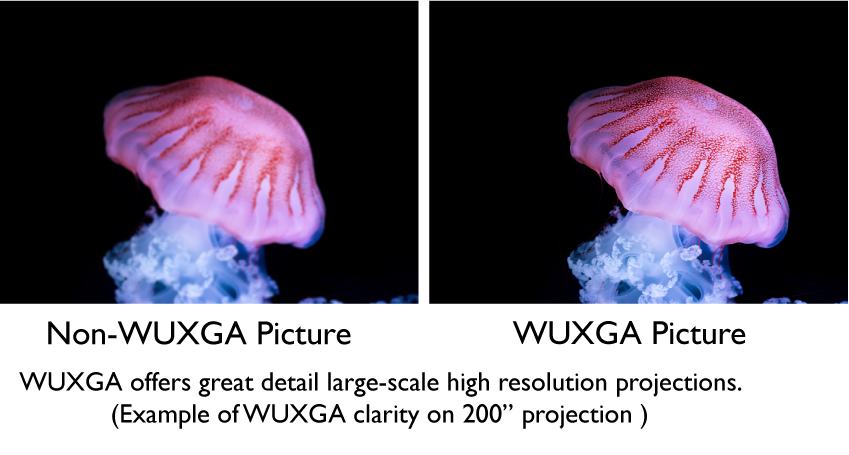 Dual Color Wheels Produce 92% Rec.709 Color Coverage for Optimal Color Performance
LU935ST's powerful laser projection utilizes a dual color wheel system to produce unparalleled color performance that achieves a 92% Rec.709 color coverage. By increasing color ratios and the purity of RGBY color, LU935ST dramatically enhances color saturation to ensure superior presentation quality.
High Brightness Vivid Clarity in Bright Ambient Environments
LU935ST's 5500lms high brightness produces wondrous displays in bright, compact exhibition spaces with superb image quality.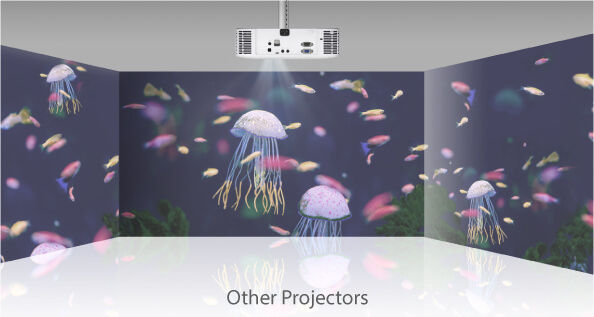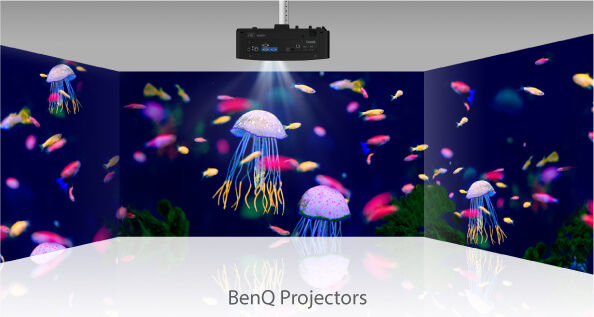 Laser-Powered Ultra-High Contrast
LU935ST laser projector creates strikingly clear images with stratospherically high 3,000,000:1 contrast ratio for true deep blacks, vivid rich colors and fine subtle details. LU935ST also features spontaneous response, requiring no wait to turn on or resume from blanking in true black for flexible performance capability.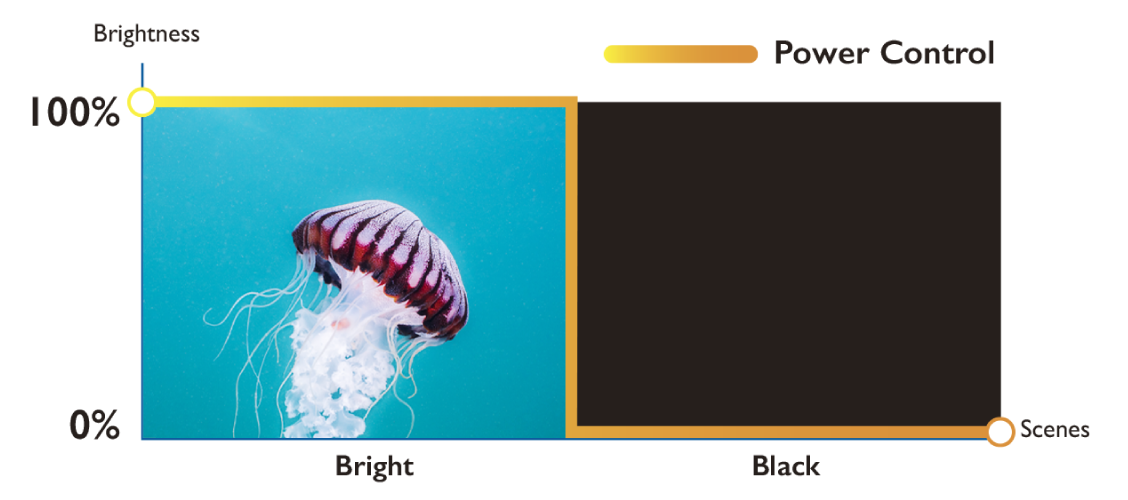 Laser Light Creates Value Over Time
BenQ projectors feature laser light source guaranteed for 20,000 hours of maintenance-free operation, saving costs for lamp replacement and maintenance. Based on the average brightness cut off of typical long-life lamps, value exceeds that of 10 lamp replacements over the life of the projector.

Highly Integrated Network Control and Management System Compatibility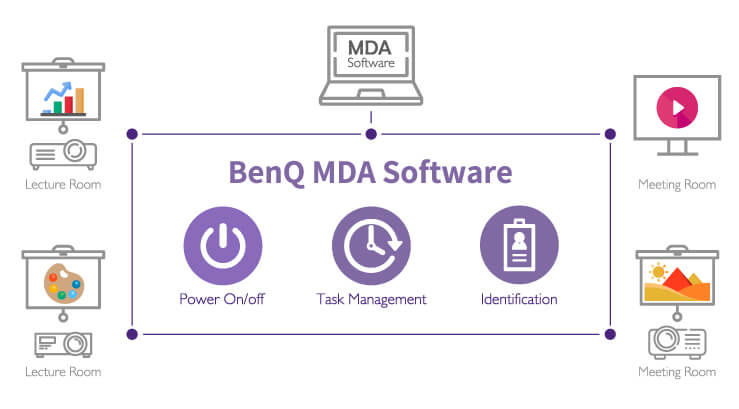 Centralized Control with BenQ Software
BenQ centralized control software is a management tool for computers that enables remote and centralized management of multiple digital projectors by IT administrators/ technicians via a local network. The management capabilities include the ability to remotely monitor, control, and configure projectors individually or as groups.